Luther College is located in the Melbourne suburb of Croydon Hills, just minutes from the picturesque Yarra Valley. Set on 30 acres, our lush and beautiful grounds together with an extensive range of modern facilities offers students the ideal place to learn and grow.
At Luther, we endeavour to provide the best education possible in a Christian setting where the whole person can grow and develop with confidence and dignity. The college's extensive programs offer all students opportunity for spiritual and moral growth, service and social involvement, excellence in academics, the arts and physical activities, to prepare them with confidence for their individual vocations and a Christian life.
Our Values
The Christian values that permeate throughout the College are:
Excellence
Learning to improve
Achieving personal bests while striving for the highest quality outcome.
Integrity
Learning to be
Developing qualities of the whole person that have high moral value.
Creativity
Learning to explore 
Being curious, questioning assumptions and using imagination to experiment.
Service
Learning to contribute 
Using one's gifts for the benefit of others.
Community
Learning together
Skilled at living and working with others.
Mission
Preparing students for life through Christ.
Vision
Exceptional teaching and learning will enable our students to confidently contribute to community.
Our Story
Luther College was established in 1964 by the Evangelical Lutheran Church of Australia as part of a national strategy to expand the church's provision of schooling.
Learn More
Employment
Our teaching and support staff provide an outstanding educational environment for students to grow and thrive. Each staff member supporting and empowering students to achieve their best.
Learn More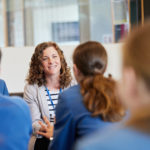 Exceptional Futures Strategic Plan
The Luther College Exceptional Futures Strategic Plan is the result of significant collaboration between College Council and the Executive Leadership Team who share a passion and commitment for delivering educational opportunities that excite, challenge, and empower young people in their learning.